Losing its edge: the precise point Peaky Blinders peaked | Television & radio | The Guardian
I agree entirely with this overall assessment of Peaky Blinders by Guardian writer Stuart Jeffries.
---
Peaky Blinders tore up the playbook from its first scene, when Cillian Murphy rode into shot like Clint Eastwood minus poncho, but plus tweed suit and matching cap. Director Otto Bathurst said his aim was to create something like Blade Runner set in post-first world war Birmingham and he did so in that opening shot, with flames decorously bursting from a factory furnace to backlight Murphy's equestrian silhouette and ash falling through the air like snowflakes.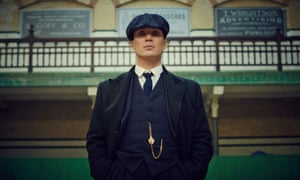 Cillian Murphy's gang leader Tommy Shelby mutated from plausible historical character to Zelig in a potboiler…
Source: Losing its edge: the precise point Peaky Blinders peaked | Television & radio | The Guardian